SOFT SKILLS AND HARD SKILLS FOR PROGRESS - ENSURING FUTURE CAPABILITIES
7 skills we need for innovation
New tools, flexible working hours and a young, diverse team – does that make you innovative? Unfortunately, no. Installing the latest software and establishing a new way of working does not bring progress if everyone continues to use the old one. In addition to a working environment that encourages ideas and is open to change, progress also requires employees who live these values and have an understanding of technology. Read here what skills an innovative team must have and how you can create the necessary environment to retain your employees in the long term.
For innovative companies, it is no longer enough to have highly trained employees who work on the same tasks day in, day out. Work environment and technologies are constantly evolving. Innovative companies thrive on employees who  
keep up with current issues,
are keen to initiate new ideas and
are motivated to constantly develop themselves further.
Companies that promote lifelong learning benefit from employees who want to stay with the company for the long term and who are motivated to do their jobs.
2. Social-emotional skills
Journalist Robert Lembke noted:
The way we work has changed radically in recent years. But more digital does not mean less social; simplified work processes and new tools make room for innovation, creativity and open discourse.
In addition, intercultural skills are also becoming increasingly important. The possibilities of home office mean that people can also work in companies headquartered in another country. As a result, and also due to globalization, many different cultures and languages are represented in a company.
Employees with intercultural skills
Companies that promote these "soft skills of tomorrow" succeed more easily in global expansion and at the same time have more creative freedom in recruiting. A team with strong social-emotional skills can also be more open to transformation and further development projects and support them better.
The New Work megatrend is intended to guarantee more flexibility and simultaneously increase commitment and productivity. To achieve this, managers must change the way work is organized, but employees must also be capable of digital interaction. This means that it is becoming indispensable for a team
to not only work together in an analogue way, but also digitally and
to communicate via different channels.
The ability to work together on projects in an agile manner, even without being on site, will be a prerequisite for companies to be successful in the new world of work.
4. Understanding for digital developments
In order to be able to work digitally and develop innovative ideas, employees need to have
knowledge about the current transformation topics and
a basic digital understanding.
The basis for basic digital understanding should be laid as early as possible; namely as part of school or higher education. In the best case, new employees have already learned this. But how about those whose school or university education predates the implementation of digital education.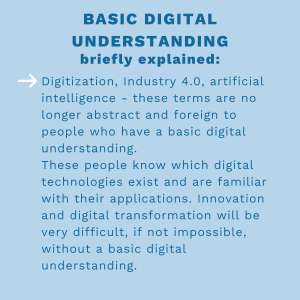 The implementation of the new and innovative opportunities arising from Industry 4.0 and can only be achieved with the help of the entire team. To enable progress in the company, all employees therefore need a basic digital understanding.
A basic understanding of digital is essential for all employees to survive in the digital world of work. But in many sectors, this alone is no longer enough.
Technological skills such as
data analysis,
the handling of automated machines or even
web development
are becoming essential for more and more employees, especially in the industrial sector.
According to a 2019 study by Stifterverband and McKinsey, more than 700,000 people with special technological skills will be needed in companies in industry, insurance and finance in Germany by 2023. However, this does not mean that all employees without technological know-how should be replaced by highly qualified people. In addition to the shortage of skilled workers, it is more sustainable for companies to focus on upskilling and reskilling within existing and well-established teams.
6. Awareness for industrial security
With the digitalization of the working world, the topic of security in companies is becoming increasingly important. With the increasing dependence on digital infrastructure, the attack surface for hackers also increases.
Employees, especially those who work a lot in a home office or travel a lot on business should be familiar with
Awareness of industrial security can only be built up step by step and best through internal training of employees to ensure the (digital) security of the company.
Leadership – in innovative companies, this does not only apply to managers: everyone who communicates and interacts in the team experiences leadership in one form or the other.
In the digital working world, leadership skills are needed in 5 areas:
Companies that focus on these leadership competencies benefit from teams with greater efficiency, a more agile way of working, and a better work climate.