Teaching Real Skills Through Online Learning
Online learning is well suited to efficiently transfer knowledge to many employees. But what about real skills? How can knowledge that is linked to hands-on work with hardware and software be conveyed digitally?
What is needed is a structured, new approach that brings pedagogy and IT together.
Online learning formats must not stop at well-made videos and illustrative tutorials.
In order to impart real skills and achieve practice-oriented learning goals, three pillars are necessary:
Knowledge transfer
Exercises
Practical use of real hardware and software
If you are interested in more, just keep reading or contact us for detailed information.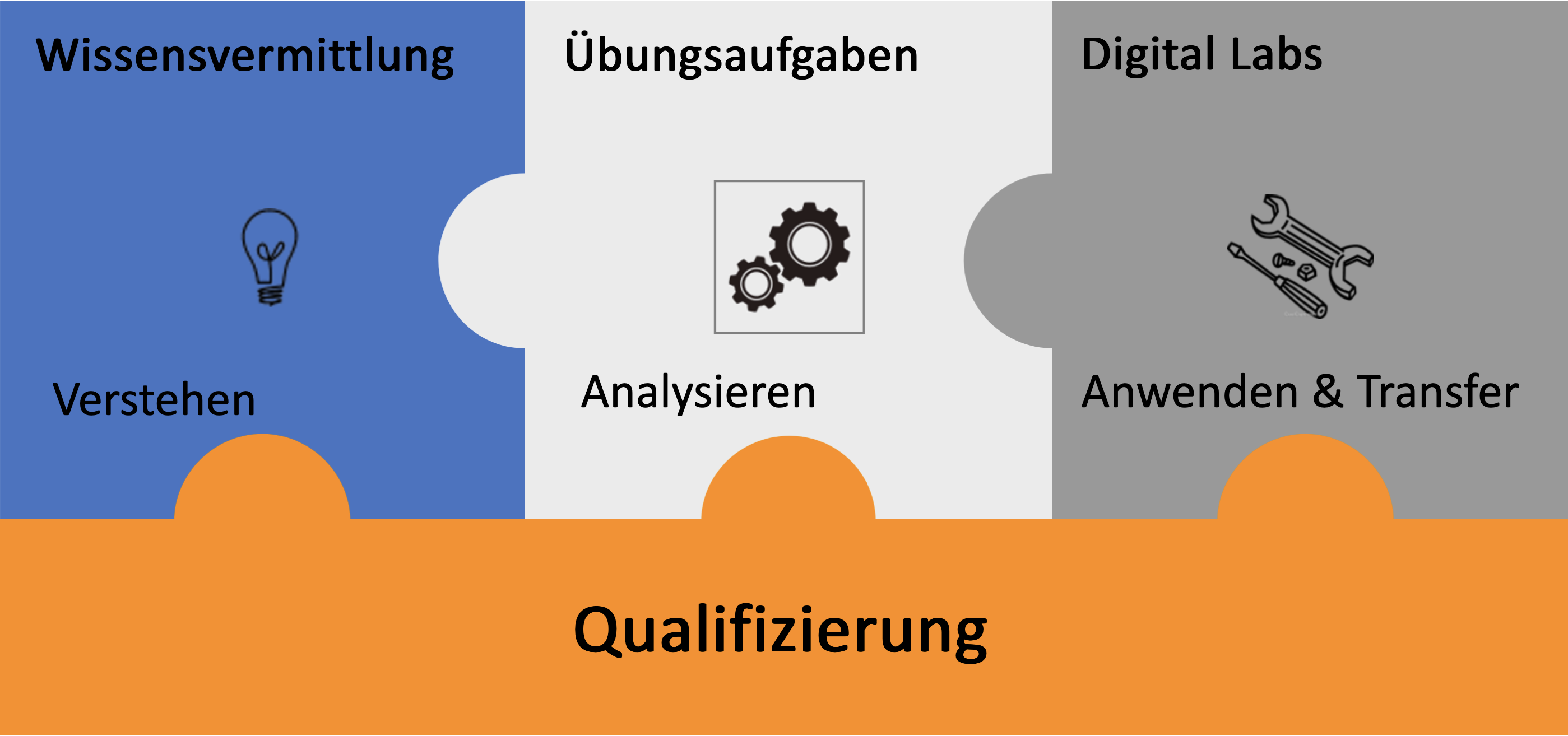 The first pillar can be easily covered online with videos, texts, diagrams, or interactive elements.
Due to the different possibilities, learning here is often more individual and efficient than with, for example, traditional instruction.
Exercises are also very easily converted into digital form, for example through formats such as case studies, scenarios, discussion forums, etc.
The last pillar, learning using real hardware and software, has so far been difficult to realize digitally.
There can be many reasons for this such as a lack of (secure) access to the hardware, a lack of scalability, the necessary pedagogical instruction from experts, the criticality of real hardware, or a missing mindset.
The overall result is that many digital possibilities remain unused and classic, often inefficient on-site solutions continue to exist. So, a new approach is needed here: real digital labs.

From a technical point of view, four levels are required for this approach:
The hardware on which learning is to take place
A VPN tunnel between the hardware and the cloud that enables a secure connection
A cloud solution through which the hardware can be controlled and on which important software is available
An online learning platform through which learners can access the content.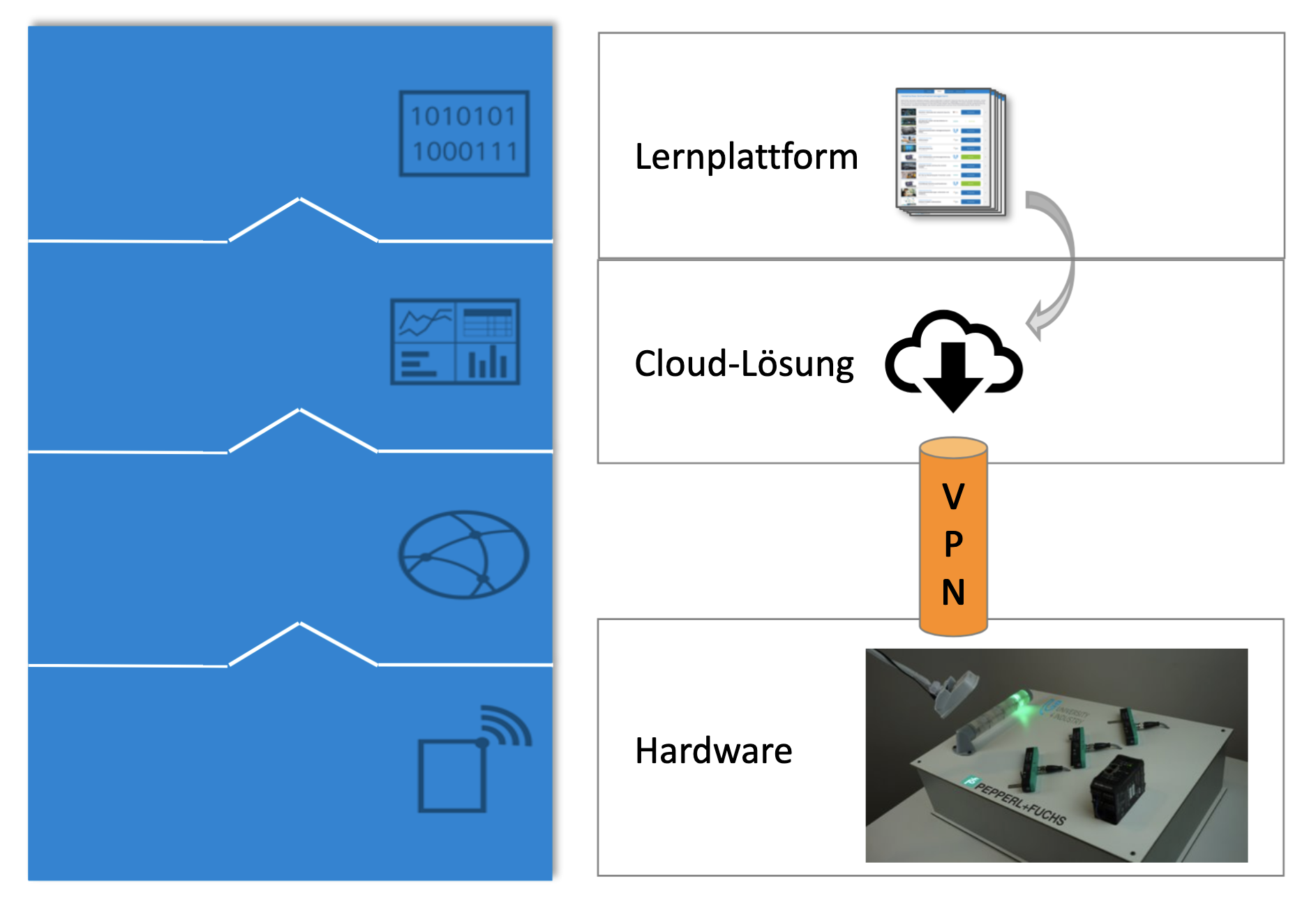 From a pedagogical point of view, what is needed in particular are tailor-made and target group-specific tutorials for the specific task, accompanied by appropriate support for the learners.
That is someone who can help the learners if they encounter problems that they cannot solve on their own.
This approach offers many opportunities to learn remotely on real hardware, but also to work with software directly in the cloud.
In combination, a digital twin, e.g., a production line, can be mapped in the cloud, which is linked to a real hardware element, e.g., a motor, via a virtual or real PLC.
By manipulating the digital twin, the learner can trigger changes in the real laboratory setup which can be observed live using a corresponding camera.
University4Industry has developed various examples of digital labs and uses them for Re- and Up-Skilling of learners from the industry sector.
For example, technical personnel can use an IO-Link setup to learn how to correctly configure an IO-Link master and the corresponding sensors, and how to use Industrie 4.0 technologies and protocols like OPC UA in practice.
In addition, the data selection and pre-processing required for machine learning are taught through a digital lab, where learners can analyze data on different vintages of wine themselves.
Digital labs are an essential part of making the training of skills for digitalization a success.
But even more: online learning not only manages to teach real skills but also to become significantly more varied and appealing for individual learners.
Feel free to contact us if you would like to learn more about this topic or if you are interested in a free trial of a Digital Lab.